The problem: infrastructure by diktat
There is heated debated in Québec about Montreal's planned light-rail line towards the East of the city (REM-Est).
When I say 'planned', I am exaggerating. The Québec government has granted autarkic powers to CDPQ Infra, the infrastructure investment wing of the province's massive pension fund. Under the pretense that the fund is investing Quebecers' savings in the long-term future of Québec (not necessarily a bad thing), CDPQ Infra seems able to flout all common regulations and practices that should govern the planning and building of infrastructure.
This autarkic power is enshrined in a 99 year agreement between the Québec government and CDPQ Infra, 202 pages of legalese that – as far as I can understand – sign away most of the developers' (i.e. CDPQ Infra) obligations to be open, to consult, to inform the public, to respect due process, etc… This agreement is itself entered into under a provincial law specifically enacted to allow the building of the light-rail system, Loi Concernant le Réseau Électrique Métropolitain.
CDPQ's autarkic powers are a consequence of the light rail system being considered, under current planning law, as a provincial government intervention (sections 149 to 157 of Loi sur l'aménagement et l'urbanisme): as such the fund is not subject to municipal and regional planning regulations.
To add insult to injury, the light-rail law reduces the notice period that local governments are granted to react to provincial/CDPQ diktat.
Limiting the debate to design and technology
Over the last few months the debate – which initially covered questions of principle and process – has been rather cleverly narrowed down to focus on specific design and technical considerations, especially those that concern the first few miles of the line, running east along René-Levesque boulevard in downtown Montreal.
An editorial cartoon by Chapleau in La Presse captures this debate: should a major avenue be disfigured by an overhead railway?
This is the question that currently dominates the debate. Overhead infrastructure in Montreal – such as the Metropolitan highway, the Turcotte exchange, or even simply rail overpasses – has not been successful.
CDPQ Infra is now busy presenting examples of overhead structures that are not eyesores and that do not divide neighbourhoods.
A plethora or architects, designers, engineers and planners are producing examples, counter-examples, arguments and counter-arguments, in favour of or against specific solutions for these first few downtown miles.
Sound and fury, smoke and mirrors, surround this debate about appropriate design and technology for the downtown segment. By sleight of techno-engineering, the big questions of process and power have 'disappeared' – questions that CDPQ Infra finds more difficult to address.
Such sleights of techno-engineering are not specific to the REM-Est : the whole smart city debate has 'disappeared' questions of privacy, control and data abuse, narrowing discussions down to which specific technological choices should be made. Such technological determinism, to which we have become inured, is serving CDPQ Infra well.
A key question that is elided: why was this route chosen?
This focus on controversial engineering details plays into CDPQ Infra's hands: ultimately, engineers and economists will tell us what is possible, and CDPQ Infra will make a show of reluctantly bowing to technical advice…
But, whilst debates about design are important, they do not touch upon the fundamental raison-d'être of the light rail system, which is to open the East of Montréal island to reliable and rapid public transit.
Given this raison d'être, the main questions – before we even think about design and technology – are about the route. Why has CDPQ Infra chosen the specific route that they have put forward? How did they make this choice? What alternatives were considered?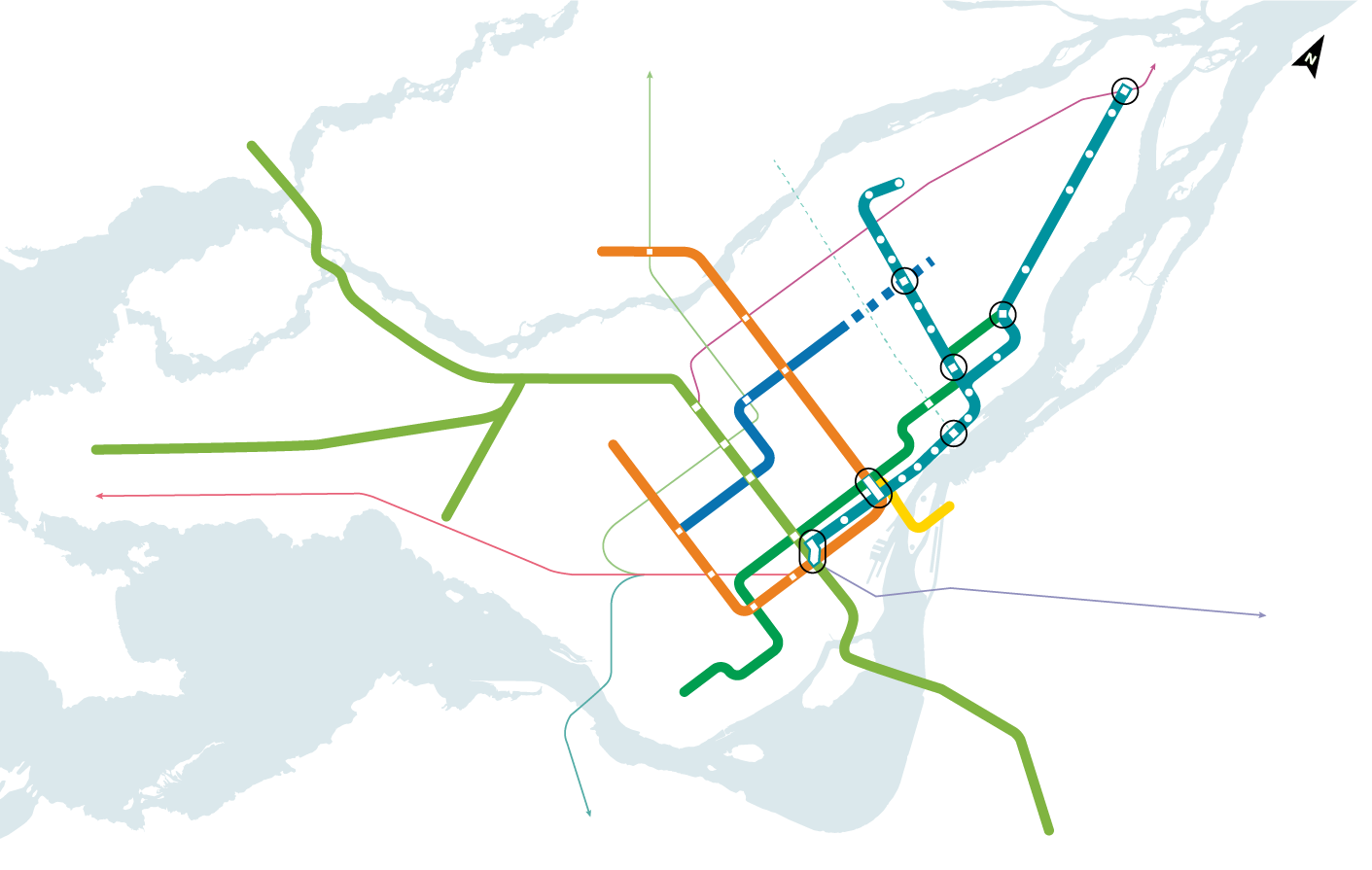 There may be good reason for choosing this route. But at first glance it seems to double-up on the current green metro line, leaving large swathes (towards the middle and north east of the island) untouched by public transport.
So a number a key questions emerge:
why double-up on existing metro routes?
what accessibility improvements (to jobs, to services, to leisure) does the REM-Est provide, and to whom?
could accessibility be further increased if alternative routes had been chosen?
could accessibility to people who need it most be further improved if alternative routes had been chosen?
These questions can be summed up as follows:
what process did CDPQ Infra use to determine the route choice, and what non-engineering criteria and process did it use to ensure the route is the 'best' for the population of the East of Montreal?
Narrowing the debate to technology and design
Questions such as these, asked in March by a group of prominent Montrealers, remain unanswered.
Instead the debate has been framed by CDPQ Infra (which can be likened to a semi-private investment and engineering consultancy) as essentially technical.
For the time being this narrow technical framing has closed down wider debates about infrastructure planning, about alternatives, and about the long-term social and economic consequences of such city-shaping investments.